27 April 2020
Panoteck Collaborates with Blancpain to Enhance the Luxury Watchmaker's Online Experience with Revolutionary Technology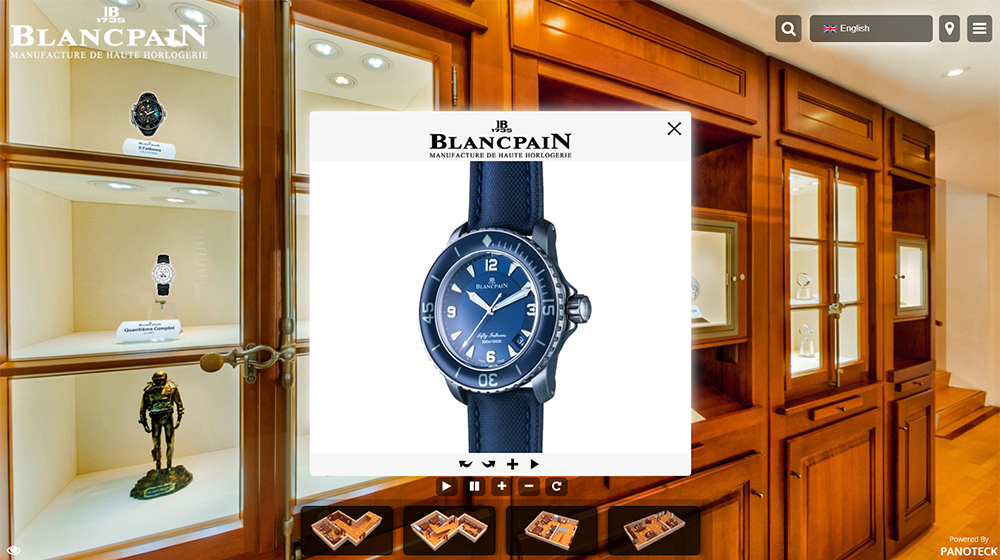 Panoteck, a leading innovator in virtual reality and 3D experiences, today announced the release of the virtual experience it created for Blancpain's breathtaking manufacturing ateliers at the renowned Valle de Joux in Switzerland. Blancpain's customers can now virtually enter the luxury watchmakers manufacturing ateliers and experience how Blancpain's unique timepieces are made by the world's most experienced master watchmakers. Viewers can also look at Blancpain's watches in 3D to get an in-depth visual experience of the brand's world-renowned timepieces.
Using its proprietary technology, Panoteck can replicate any physical space in the most stunning digital format. The company's technology also enables the integration of 3D product imagery into 360º panoramic virtual environments, allowing consumers to experience and explore products digitally like never before. With Panoteck's solutions, luxury brands can have their online brand presence reflect what customers experience in their physical boutiques and allow consumers to explore products on their mobile devices from anywhere in the world.
"Our collaboration with Blancpain has given us the opportunity to demonstrate that luxury brands can create a virtual environment that can provide the same experiences they have mastered in their physical boutiques," said Roberto Uzcategui, Panoteck CEO. "Creating immersive digital experiences is critical for luxury brands to maintain their brand identity and competitive edge as more product purchases are made online."
Panoteck is a leading innovator in virtual reality (VR) and 3D experiences. The company specializes in the creation and integration of high-definition, fully immersive and deeply engaging VR experiences for leading brands online. Founded in 2011, Panoteck allows its customers and partners to represent their brand culture, heritage, quality standards, look & feel, and the emotions that only luxury brands can transmit – in the same format online as they do offline. Panoteck provides the most unique, luxurious, and immersive virtual experiences allowing end-users (customers) to navigate, experience products digitally, and subsequently buy products online through a highly differentiated experience.