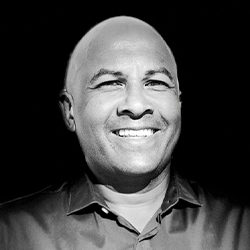 Rob Ebert
Board Advisor - Finance & Investments
Rob started his career in Finance in 1985. He was a trader on the Japanese Warrant desk for Daiwa Securities before moving to Morgan Stanley in 1987 to do the same job. He moved to Japan in the early nineties to run the Warrant trading desk in Tokyo and returned to London four years later to become Head of Asia Pacific Sales-Trading operation. The following year he joined, what was at the time, a fledgling equity business at Deutsche Morgan Grenfell, the Investment Banking arm of Deutsche Bank. He returned to Tokyo in the late nineties with Deutsche to run sales-trading, ultimately also looking after Convertible Bond and Program Trading Sales.

In 2000 he moved back to London eventually running the Program Trading Sales desk and that role was greatly expanded later, when he was given the chance to combine Cash Sales Trading, Electronic Execution and Program Trading Sales into one group called Execution Services.

Rob later became Head of the Institutional Client Group for the USA. He subsequently moved to New York and was responsible for the Bank's equity clients across all facets of the franchise in Derivatives, Prime Brokerage and in the Cash Equity business. He was also appointed Global Head of Execution Services Sales.

In 2010 Rob was asked to perform the same job for the Institutional Client Group in Asia and in the middle of that year he moved to Hong Kong. He later become Head of all equity sales for the 17 Countries in the Asia Pacific Region and Co-Global Head of Sales.

He was promoted to Head of the Equity Division APAC and had responsibility for all sales and trading functions across 17 countries, as well as being made Head of Global Markets, Hong Kong.

Rob was Chairman of the Board of Deutsche Securities Asia Limited, sat on the Global Equity Executive Committee and the Global Markets ExCo in Asia Pacific, before retiring from the Bank in the Summer of 2016.

At the peak of his banking career Rob was responsible for over 500 staff and controlled $2 Billion US Dollars of client derived revenues.

Since stepping away from Investment Banking he has been actively investing and advising, mainly in the Technology and Medical fields and is particularly focussed on opportunities that can have a positive social impact.

He is actively involved in supporting children's education in the developing world, as well as wildlife and habitat conservation projects.

Rob sits on a two private boards in the financial sector and is an advisor to a number of firms both inside and outside of finance.