Singapore, 1 Jan 2015
Revolutionising the world of luxury online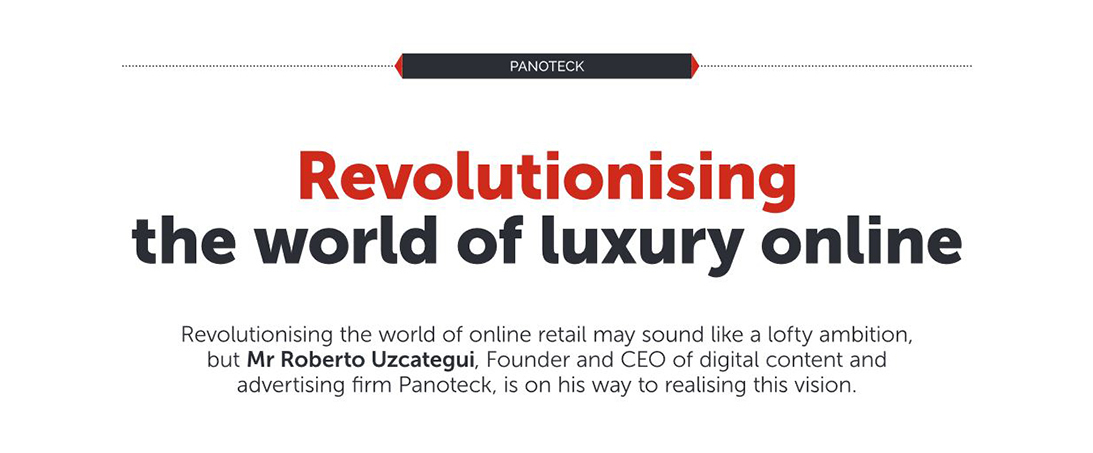 It started in 2011 when he founded the B2B2C company in Singapore, inspired by luxury brands' heavy investment on their physical boutiques, although their customer experiences are not recreated online. "The digital representation of most luxury brands does not represent the brand culture, the quality standards, the look and feel, or the emotions that you experience when you walk into their physical boutique. Panoteck changes this paradigm." said Mr Uzcategui. While luxury brands make up 16 per cent of the retail market today, online luxury sales is only 2 to 3 per cent of the growing global e-commerce market which is expected to close at over 1.45 trillion dollars this year.
Cue Panoteck, which provides the end-to-end technology that transforms brands' existing websites or any form of digital presence — into unique and luxurious virtual destinations for luxury brands online, driving traffic to both their digital destinations and physical stores. As its name suggests, Panoteck recreates the luxury brands' actual brick and mortar stores into deeply immersive and highly engaging panoramic virtual destinations. Using its proprietary robotics technology, Panoteck acquires high-definition panoramic digital imagery, which is integrated with rich media elements and highly sophisticated digital overlays. These elements include videos, promotions, interactive floor plans, and various e-commerce capabilities in product fly-outs that couple comprehensive information with HD images and 3D models of each product featured in the virtual boutique. This is done with Panoteck's 3D on 3D technology, which integrates 3D models of products into a 3D panoramic virtual environment, streaming instantly on both web and mobile devices.
As customers browse the virtual boutiques, they can navigate, experience, and explore the brand's entire product line digitally and buy any product immediately. They can even try it using augmented reality technology, or apply for special incentives to use when visiting the physical stores. "There has been a tremendous shift in the direction that luxury brands have taken over the past few years," said Mr Uzcategui, referring to their need to go digital, in addition to maintaining their physical boutiques. This has led to a long-drawn struggle between digital marketers and retail marketers on the best way to position and sell their brand.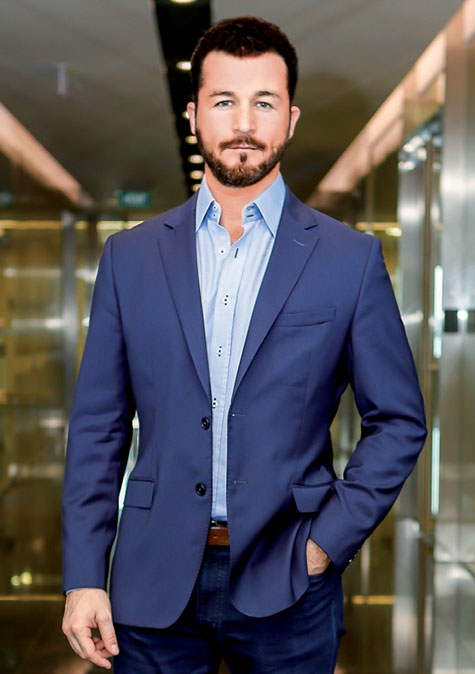 Mr Uzcategui feels that the main issue lies in the limitations of existing digital platforms: "Existing technologies do not represent the quality standards, the look and feel, the brand culture, and the emotions that these luxury brands are all about. This is the reason why traditional and conservative brands are not investing their dollars in digital. We change that!"
MORE THAN AN ONLINE RETAIL PLATFORM
Although increasing targeted digital traffic and driving e-commerce is among Panoteck's offerings, this is not the end game. The firm's proprietary data and analytics platform, dubbed "Panolytics", allows clients to harness web traffic information. It also encompasses a Content Management System and a Customer Relationship Management platform, integrated seamlessly into a back-end, cloud-based engine that helps brands manage every single element displayed, from the back-end platform that Panoteck develops and customizes for the brand based on their specific requirements. "Everything we build is comprehensive, intuitive, and fully compatible and customisable," said Mr. Uzcategui. Brands can find out which products are most viewed, searched, or purchased, and even the specific areas that potential customers are viewing their product lines digitally or the physical boutiques that users eventually buy their products from. "This is highly valuable information for the brand as it allows them to identify where all their digital traffic is coming from, which can in turn, help the brand convert all this digital traffic into footfall," he said. "Panolytics also allows brands to forecast from a merchant standpoint."
THE ULTIMATE PLATFORM COMBINATION
Although the company started out nearly four years ago, this is only the beginning. "Sometimes we collaborate directly with the brand, like in the case of Bell & Ross, Tory Burch, or True Group. However, at Panoteck, we strongly believe in partnering with strategic global industry leaders," said Mr Uzcategui.
Earlier this year, Panoteck entered a strategic partnership with Amobee Inc. with which it shares a joint global market strategy. Amobee is a global technology and digital marketing pioneer with over 600 employees and 21 offices worldwide.
"We chose Amobee because our products and our respective technology platforms complement each other perfectly," he added. "Together, we provide the ultimate platform combination and the most powerful digital offering for luxury brands online, providing a seamless transition from mobile ads and other digital channels such as display, social, mobile and video, straight into Panoteck's virtual destinations globally." The aim, ultimately, is to give brands a highly differentiated digital offering and help them stay ahead of competitors. "Panoteck has been extremely fortunate since its inception, as it has managed to attract very high quality strategic investors and board advisors which have helped and guided the company to where we are today," he said. "Even though the company has had some acquisition offers, we are currently seeking strategic investors to take Panoteck to the next level."